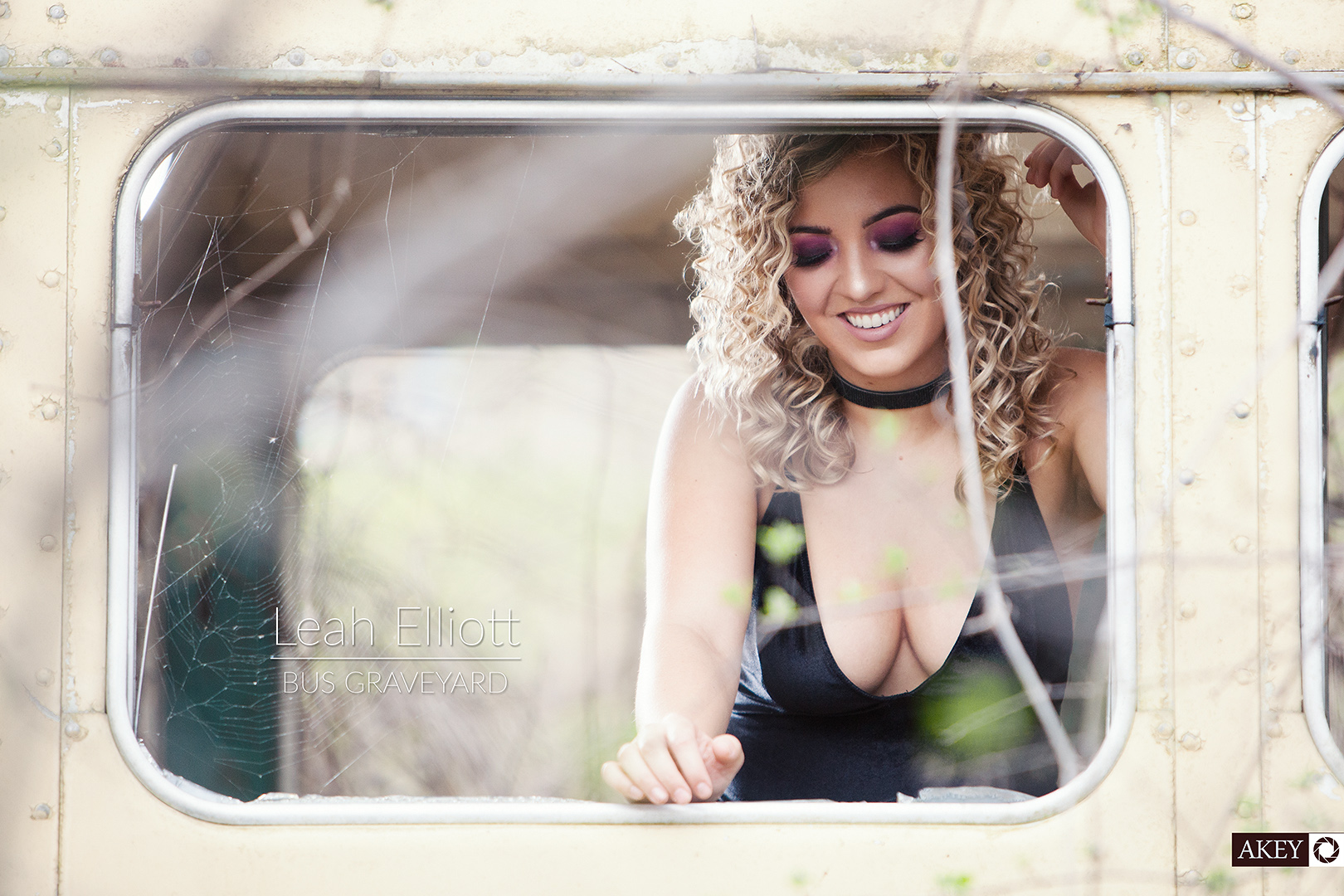 The Bus Graveyard
I am always looking for unique locations to photograph my subject and clients in, on and around. Windsor, Ontario however doesn't have many (in fact very few) grand locations. What Windsor has is a lot of urban spaces, green space and a lot of junk, everywhere. For this photoshoot, we decided to take some junk and shoot something beautiful within.  The location, a bus graveyard that I have known about for many years but hadn't yet used myself.
Enter Leah Elliott, a beautiful blonde model and artist who resides in Windsor but will be leaving us to a career teaching in a foreign country. Leah is an artist creating in multiple medias. From photography to painting, the potential for Leah to succeed beyond her wildest dreams is there like a beacon waiting to shine.
I wanted the results of this shoot to be beautiful yet moody. I knew we would be potentially shooting in a low light situation. Thus I brought my stabilized Canon 70-200mm f/2.8L and my newer Sigma 85mm f/1.4 ART lens. As usual, I shot the session with my Canon 5D Mark II. I also brought my Strobepro x600ii TTL monolight/strobe and, of course, my 22″ white beauty dish with diffusion sock.
It figures that the day of the shoot, we got a forecast of scattered showers.  Discussing with Leah, we made the conscious decision to shoot rain or shine. We met at the location and proceeded to examine and shoot in various vehicles in the bus graveyard.
Halfway through the shoot, while working in one of the buses, a torrential downpour began. Leah and I looked at each other and kept shooting since we were under cover.
We waited until the end of the rainfall, shooting all the while. By the end of the rainfall it was pretty dark so we took a few "parting shots" and were on our way.
The Results
Contact Me
If you would like to hire me to photograph images like these for you, please click here to contact me for information/booking details.
(Visited 163 times, 1 visits today)